The Greenbeard entered the binary Ipidina system in the vacant orbital slot 5. The many months they had spent in space had begun to take it's toll – as they entered normal space, Ein reported an alert on the fuel system. They have a leak. They were able to isolate the affected bladders, however it will be impossible to fill the tanks adequately for a jump until the damage is repaired. Several of the more mechanically inclined crew members headed down to the workshop only to find that they had not stocked raw materials to print the needed parts. At a crossroads, the crew debated the best course of action: An asteroid field was available in orbital slot 8. Or the primary world in orbital slot 3 might be able to provide some parts – if there was anyone still there.
The crew keenly remembered their last foray into asteroid mining in the last system and the near disastrous result. Bemoaning the lack of personnel needed to properly crew the vessel 24/7. Resolving to take on some 'red shirts' at their next opportunity, they opted to try their luck with the main world – Ipidina I. Taking shifts to keep the sensors and turrets manned as they approached, they were able to reach the planet in a little over a day. As they approached the world, they opted for a long elliptical orbit that would allow for a quick pass of the scanners. Once within 250km or so, they received a voice communication:
If you desire landing navigation data, press or say 1.
If you have reached this system in error, please press or say 2 and reverse course immediately!
For all other matters, please hold or press 3, a ballistic missile will be with your shortly!
Puh puh puh press ni__, ni__, ni__……. Three or just stay on course to repeat these options.
Everyone on the bridge immediately yelled one and scrambled to find the 1 button. The slumbering crew was recalled to the bridge. Tomi had been scanning the world from a distance, and as they approached had switched over to life scanners. While it was a simple matter to determine that the world was an airless void, she was able to pick up the existence of domes covering lava tubes near their assigned landing location. She initiated a life scan but wasn't given an opportunity to complete it before the Greenbeard set down.
Daphne was pleased at the opportunity to actually land the Greenbeard somewhere – not an opportunity they have had often given its lack of ability to maneuver in atmosphere. Expertly dropping the vessel on the landing pad they see a nearby freight elevator and briefly discuss how to traverse the distance. The crew gears up and opts to take the Skiff of the Ancients across the airless surface and into the elevator which begins to pressurize as the doors close.
The voice of Friend Computer advices them that the environment has been pressurized for their comfort and that they may remove their vacc suits. Descending for quite a distance, shifting to horizontal movement, the decending again – they finally come to a stop. As the doors open, Friend Computer advises that weapons and armor is prohibited in Alpha Complex. They are to deposit their gear in nearby bins and remember to take a claim ticket. A diplobot will be with them shortly. Most of the crew complies. Slug finds himself be shock/stunned by the door pad as he notices the rest of the crew coughing and loosing consciousness.
The players awaken in a large room. It contains a towering pillar of cryotubes. None of them had ever seen something on this scale before. The first thing that party noticed was that all of their former cybernetic implants, limbs, etc were missing. The second thing was that they were naked. Looking around, they noticed that everyone's naughty bits were pixelated out. They also saw names floating over each other's heads: Tomi-R-OUT-1, Fenton-R-OUT-1, etc. A '1' was tattooed on their forearms. Groggily rising from their beds a voice spoke threw speakers scattered throughout the room:
'Greetings, new citizens!' 'Welcome to your first day in Alpha Complex. Any memories you may recall are pseudomemories uploaded to your brain lobes, to aid orientation and minimise psychotic incidents in fresh clones. As citizens of Alpha Complex you are now valued members of our great community. You will be given roles and tasks, some simple and some perilous, and your contributions will be rewarded with –'
An explosion occurs on the far side of the room. A small scrub-bot that had been sitting idle near a wall of mops springs to life and attempts clean the junks of rocks and debris. A door opens and a man with a floating name over his head steps into the room. Flanagan-R-PET-3 tells everyone to get dressed – a terrorist attack has occurred in a nearby sector. He states that they don't have clearance to hear the rest of the briefing, but are free to access to Alphapedia through their Cerebral CoreTech if they have any questions. He instructs them to each grab a mop and get to work. If they complete their task efficiently, they will be awarded 10 XP.
The players all grab a mop, save Fenton who grabs two mops. Everyone starts scrubbing and clearing debris. Fenton, enthusiastically starts cleaning everything in sight – including Flanagan. The scrub bot was damaged trying to clean debris – it is partially repaired, but some of the sharp pointy bits are stashed for possible later used by Tomi and Fenton. Friend Computer thanks them for their service and issues them each 1<s>0</s> XP.
As they are wrapping up, another explosion is heard and alarms begin to sound. A popup window appears on everyone's iBall display which obscures everyone's vision. It indicates that the terrorist known as Wossisname the Not Dead is in proximity.
'Be careful! He may be after your mops'
A man bursts through the door – the name floating over his head is Wossisname. He has 5 traitor stars as well. The work party springs to life and great hilarity ensues. When the dust settles. Wossisname is dead, as is Flanagan. A few of the party members have shiny new treason stars floating over their heads. A mop is broken.
Friend Computer is very pleased that they have successfully stopped the terrorist Wossisname. It states that they are being granted 500 XP, but is subtracting 5 XP because of the broken mop as a reminder to take care of their equipment. Sadly, this leaves everyone 4 XP short of achieving Orange security level.
Friend Computer provides another update directly to the iBall displays. Retrieve your new red clearance laser pistols from a locker and report for mandatory volunteer nutritional duty in The Lunchbox.
The party of troubleshooters enters The Lunchbox and finds it be a large cafeteria style room – shaped and colored like an old thermos. They all split up picking their own preferred food options: Tastes Like Something Orange! Flavor Meal Bar, Taragon Happy Fiz Drink, Guacamole Flavor Puff Crunchers to name a few. Most of the party mingled and made new friends, trying to extract information about their new surroundings. As the nutritional period came to a close, they were ordered to report for duty.
Joining on them on this duty was a new troubleshooter who was assigned to replace Flanagan. The new clone – Phil-R-OSE-1. As they prepared to move out, a Molotov cocktail dispatched a group of nearby clones. While it initially appeared to have been thrown by Slug, it was later found to have actually been thrown from a table of nearby Commie Mutant Traitor Scum. Phil-R-OUT located a duct and beckoned everyone to evacuate. Slug couldn't resist the temptation to throw a Molotov cocktail as he departed and was welcomed by the warm embrace of a flamethrower for his trouble.
The route to the elevator they were to take was recalculated as they entered the ducts. The new route turned out to be quite fortuitous as they heard the commotion of security enforcers and laser pistol fire as they made their exit. Arriving at the elevator – they are joined by Slug was surprisingly less crispy than they expected. He was, however, sporting a '2' tattoo. After a brief conversation they entered the elevator and left for sector PIE.
Just short of their destination, the elevator stopped. A speaker states that an inconvenience is preventing the doors from opening. Daphne pops thru the roof to see if they can climb out but sees no method of actually climbing up. Left with no alternative, the force open the doors to find that they are stuck between two floors. A red viscous fluid, that smelled of strawberries, pours through the elevator doors and begins to fill the cab.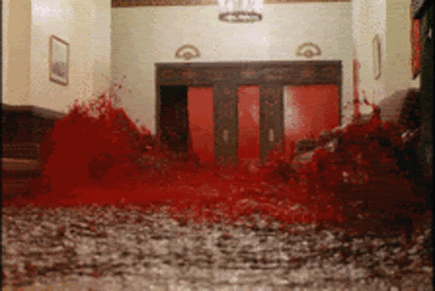 The troubleshooting party climbs out and begins to explore the sticky sweet environment. They come across the occasional clone bobbing along trying to find a way out. A few abandoned breakrooms from which they are able to liberate some additional equipment also crosses their path. As they make their way through PIE sector and enter HOY sector, some sort of catalyst triggers a giant wave of liquid desert. A fresh set of alarms again being set off. Riding this wave is an upside down table with two clones on top. They have a jolly rogers flag hung from one of the legs.
'A-HOY sector! Torrents amidship on the scurvy bow port! Overclock the mainsail and prepare to be motherboarded!'
One of the men, Lloyd-R-Dru-1 has an unspoken conversation with Phil-R-OUT-1. After some posturing, they agree to make their escape together. As the escape is made, Lloyd relates some of what he has learned as a custodian of this sector. There are other complexes – at least a Beta-Complex and a Gamma-Complex. Each is built in large lava tubes topped by a dome. There was a Tech Level fall back when ships stopped coming some time ago – now the cities compete for the limited life support resources available on this barren world.
The crew is convinced they need to seek out the Scarborough-I-JON who is rumored to be in OSE Sector for additional answers. On their way they run into Flanagan-R-PET-3 who has been reassigned to security here in Orthodontic Supply and Equipment. He immediately halts the party and demands to see their O2 Ration cards… Phil-R-OUT-1 prepares to activate a buzzbot, but suddenly – Flanagan leaves, with a somewhat bewildered expression on his face.
Finally reaching Scaraborough-I-JON, the party is finally able to start getting some answers. It isn't long, however, before an all out Melee erupts. Def Leopard is first broadcast thru the room, then throughout the entire sector. Lloyd is almost tranqued, almost killed, and almost retranqued a few times, before being tied up with surgical tubing. Slug uses rocket boots to blast his head thru the ceiling while playing air guitar. The entire sector loses power. Emergency lights come on, the little strings tied to the air vents all go limp.